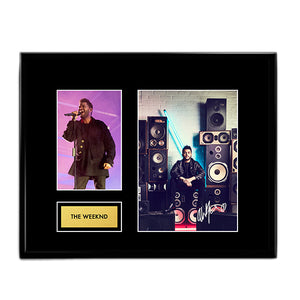 The Weeknd Signed Autograph
Regular price $27.95 Sale
Measurement:
14 inches (W) by 11 inches (H)
355 mm (W) by 279mm (H)
Details:
Ready to frame. Included with the artwork are two heavy duty polyethylene hang tags with self-adhesive that allows you to hang the artwork on the wall without any photo frame.
Artwork is mounted oní«ÌÎ_pH-neutral mount boards (measuring approximately 14 inches(w) by 11 inches (h),í«ÌÎ_

with 45-degrees beveled frame cut by precision mat cutting machine.

Photo frame (pictured in the thumbnail) is sold separately. Artwork will be shipped without the black frame if you do not select it in the checkout. You can purchase your own photo frame measuring 14" by 11" at your nearest stationery store.
The artwork contains a smaller photo approximate measured 6 inches by 4 inches, the larger photo is approximately measured 8 inches by 6 inches. Autographs are reprints of the original signed work, not the original signed piece itself. Any questions regarding this please do not hesitate to contact us.
This artwork is not associated with or endorsed by its respective owner, all rights such as movie/tv titles, posters are reserved by its respective owners. This artwork is covered by Fair Use as it incorporates transformative work. Contact us if you have any questions.